Missing Information!


Uh oh! Seems like this article is lacking information. You can help us by expanding this page.
Friendship points are a new feature given by towers as a token of appreciation for you to help fight and reconnoiter against the voids.
Every time you win, towers which you have placed in game will receive a friendship point. After you get a certain number of friendship points, they will send you a thank-you letter along with a profile card.
To see the amount of times you won with the tower (aka. number of friendship points), hover over the tower of choice in the Inventory section of the game.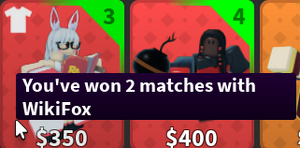 Mail given
NOTE: These Mails are marked as spoilers on the main article, you have the choice of not viewing them even if you click on the links.
Delta (𝑥 points)